located at:      
115 S. Side Square. Macomb, IL. 61455
(309) 313-2826
NEW – View products*

**Many of our products are available to view online. This is not a guarantee of availability nor is it a complete listing of all products. If you have questions about an item or would like to place an order, please contact us and we can arrange non-contact pick up, delivery or shipping if needed. We apologize that online ordering is not available at this time. Thank you for your patience.
Welcome to The Bird's Nest Knit & More
We are happy you stopped by to visit. We are are a small, locally owned, fiber arts shop. While the shop itself may be small, we are big on selection, service and smiles. We carry a wide range of fiber hobby supplies sure to suit your interest and price range.
CLASSES
Beginning knitting, crochet, spinning or felting
If you would like to get started with the basics of any of these areas, please call to arrange a time and we will be happy to get you started. We are available during normal business hours to accommodate one on one (possibly two) at no charge. We do on occasion hold after hours, fee-based classes for larger groups.
YARN & FIBER
 We carry a nice selection of yarns in a wide range of pricing and fiber content. If you are interested in spinning or felting, we also carry a limited supply of roving and blending fibers. Some of the current yarn brands we carry are:
Blue Sky Fibers: Alpaca Silk; Bulky;  Organic Cotton (worsted); Woolstok;
Cascade: 220Superwash; Alpaca Lace & Peruvian Tones; Cherub DK; Cherub Chunky; Hampton; Heritage; Magnum; Roslyn; Sarasota; Ultra Pima (white and coral only at this time).
High Prairie Fibers: Odyssey(formerly Walkabout) – DK weight Corriedale yarn hand-dyed by a Midwest (Iowa) fiber artist
Noumea: Hand dyed yarns by a local indie dyer (Rushville, IL)
Patons: Canadiana
Premier: Home Cotton
Skacel: TrekkingXXL; Zauberball Crazy
Urth Yarns: Uneek Fingering; Uneek Cotton
Zen: Superfine Fingering and Superfine Glitter
DIAMOND ART
We carry Diamond Dotz and Leisure Arts but can order others.
NEEDLES, HOOKS & NOTIONS
 With brands like ChiaoGoo, Knit Picks, Knitter's Pride, Susan Bates, Boye and Prym you are sure to find what you need. If there is anything we don't have, we will do our best to find it for you.
NEEDLEWORK
We stock the entire color line of DMC 6-strand floss!!! If you have a preference for hand dyed or custom floss, we may be able to order those as well. We stock a limited amount of patterns and stitching fabrics but are happy to order just about anything you need. We also stock a nice selection of Jack Dempsey Needle Arts stamped embroidery patterns.
JUST FOR FUN
If you are looking for a gift for the fiber hobbyist in your life, we offer gift certificates and unique, hobby related "fun stuff".  We have colorful and useful project bags, crochet hook sets,  and  locally made decorative spindles.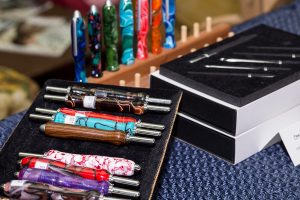 FIBER THERAPY
Fiber and friends, what better therapy could there be? Come join us and share your latest project and see what others are up to. There is coffee, tea and sometimes even snacks available to enjoy while you relax.
UPCOMING EVENTS
Follow us on Facebook to see beautiful and fun projects done by our customers and information on upcoming classes, KAL's or play days.
I
TRIBUTE
The Bird's Nest was lovingly named in memory of my mother-in-law whose name was Byrda (but most referred to her as Birdie). She loved all things cooking and crafting and often encouraged me to try new things. I hope to share that same encouragement and enthusiasm with others so they might feel as welcomed as she always made me feel. So drop by and see us at "The Nest" and get started on your next project.